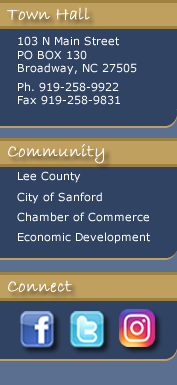 A primary care physician, 2 dentists and a psychologist are all conveniently located in the center of town. Stephen Cox, M.D. of Sandhills Family Practice attends to patients of all ages. Walk-ins are welcome. The Broadway office has a support network of many other physicians and medical professionals in the Sanford office if the need arises.
Just down the street from Sandhills Family Practice are Dr. Eldon Sloan and Dr. Don Sloan who provide dental care for patients of all ages. Dr. Bert Lucas, of Long Leaf Psychological Services, P.A.,offers patients counseling services and various support programs.
The Cape Fear Rural Volunteer Fire Department has a certified First Responder Team who typically are the first to respond to a medical emergency when 911 is called. Central Carolina Advanced Life Support, based in Sanford, will follow providing paramedic services.
Central Carolina Hospital(CCH) is located 8 miles from Broadway. An acute care facility, CCH is a part of the Tenet HealthCare System, an investor-owned healthcare corporation. Central Carolina Hospital offers many community education classes, in the areas of CPR, Childbirth, Parenting and more.
For matters involving tertiary care, UNC Hospitals, Moore Regional Hospital, Duke University Medical Center, & Wake Medical Center are all located within an hour's distance of Broadway.
101 Church Street, Broadway

(919) 258-6521

Lucas Psychological Services, PLLC

117-C North Main Street, Broadway

(919) 770-1466

(919) 258-5655 fax

Greg Manning, DDS

105 Church Street, Broadway

(919) 258-9811

Sloan & Sloan Family Dentistry

103 Church Street, Broadway

(919) 258-9321

1135 Carthage Street, Sanford

(919) 774-2100

Education Hotline

(919) 708-4602