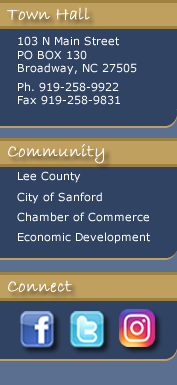 Broadway Elementary School, one of the eight elementary schools of the Lee County Public School System, serves students from kindergarten through fifth grade. Recently built, this state-of-the-art facility has all of the amenities to provide a perfect atmosphere for education.
Within the public school system, after fifth grade, students go to one of the three middle schools in the county. In the ninth grade all students attend Lee County Senior High School or Southern Lee High School.
Two private Christian schools—Grace Christian School, serving students K-12, and Lee Christian School serving students PK-12—are located in Sanford approximately 20 minutes from Broadway.
Central Carolina Community College is located in Sanford, approximately 5 minutes from Broadway. Offering a wide variety of degree programs, as well as continuing education courses, the college is renowned throughout the state for its exemplary education.
Central Carolina Community College

1105 Kelly Drive, Sanford

(919) 775-5401

2601 Jefferson Davis Hwy, Sanford

(919) 774-4415

3220 Keller Andrews Road, Sanford

(919) 708-5115

106 Gordon Street, Sanford

(919) 774-6226

283 Harvey Faulk Rd, Sanford

(919) ,on842-5411

2732 Industrial Dr, Sanford

(919) 745-1442